Being the ever-online CHA stalker I am, I knew I had to post some sneaks! (And also serve as a self-reminder to myself as to which products I am going to buy in the future, you know, kinda like a shopping list, haha)
COSMO CRICKET
If you asked me which collection(s) I love most, I think it gotta be "Girl Friday" and "Ever After". Girl Friday caters to all of us who is still child at heart and perhaps a child physically (me, kay, I'm a teenager, but still a childddd). Ever After is soooo elegant and the hues are so classic, I love how CC will lauch out with a few 'playful & cute' lines accompanied with one 'elegant and soft' lines, if that make sense! Snorkel looks totally cute too... but I love the other 2 colors more... :D
Next up...
SASSAFRAS LASS
(once again, its yet another open secret that I love this company sooooo much that I always rush to my LSS whenever there's new arrivals of goodies from this company, and of course, they did not fail my expectations this time)
They're a little different this time, without all the woodland creatures, but still vintage-ly cute!
Initially I was a little bummed when I did not see my favorite woodland creatures appearing on Sassafras Lass's papers, but "Vintage Yummy" slowly (nah, not really that slow, lol) grew on me!
Just look at it and you will know why..


My favourite PP out of all the papers could be the "Memory Lane" one... I love the retro circles that are revolving around the paper (seems like circles are the new trend now eh? Wait for it, I think Pink Paislee came up with another paper featuring mod circles designs... sweet!)

"Darling Deer" and "Remember me" are equally pretty too, they almost embodied Sassafras Lass all over them! I can't wait for SL's new monograms (so versatile!) and their newest playing cards as well!
This is only the 1st collection out of all their sneaks, and I think as you can tell, I am already head over heels with it, if they are going to go with "save the best for the last", I don't know how in love I will be with in their 3rd collection...
Well now, let's see some new products kickin' in from
American Crafts
, shall we? ;)
Thickers, thickers thickers, virtually the staple diet for all die-hard scrappers out there... and do you hear meh this time? *NEW THICKERS ALERT - so many new fonts to die-for!* Betcha gonna die with thickers overload!
Polka-dot puffy accents, sweet!


New font (gotta love all those that looks so curcisve ones...)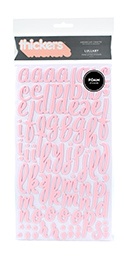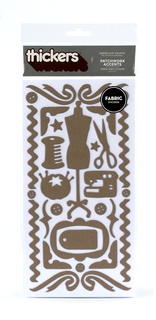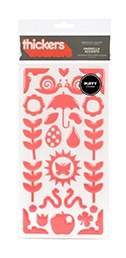 Now, I want one of each font, each color, don't try to stop me. (or actually, seriously, try to stop me, I am contradicting myself cause of all the new products overload O_O)

Now for their awesome papers.
American Crafts has also rised to being one of my favorite companies when it comes to Patterned Papers (not that I don't love any of their other products though! :D)

And now, can we forget the ever-popular embellishments from AC...
Lots of great American Crafts ribbon




Details Layered Embellishments ... (I love this new small & petite packaging! :D)




Minimarks...



FLA!R!!!




Transparent stickers are my favorite embellishments, they are so vibrant and always make my pages 'pop'!

The journalling stickers... woah, just too cute to miss!




All of them are screaming 'BUY ME! BUY ME!'... now where is my bank account money going towards again? *sigh*



WEBSTER PAGES


(I was so surprised I didn't notice them the other time!)

Those beautiful hues of pale pink, kraft, beige, green, turqoise & cream... total temptation. Resistance is futile, like how they would say it.

Magical wishes! (Can I make a wish that, hoping they would come free to me! Just joking!)




A sweet life! (Who can create ugly pages with these beautiful papers?)




Click on each image to view it in its full-sized glory!


PINK PAISLEE
So…lets jump right into some of the papers shall we???
Introducing…Fetching
These spirited designs capture the charming appeal of the boy who wants to be stylish for dress-up, yet rugged when playtime comes around.
Enjoy the sneak
See what I am talking about when I mentioned the mod circles? Oooh and new die-cut paper, gotta have 'em all! (That sounds familiar, doesn't it?)

CRATE PAPER
To save you guys the trouble...
BAM
Click on each thumbnail to see each of the new collections!
(New die-cut papers, again!)
Jenni Bowlin
Farmer's Wife

Love the new papers!

These journaling cards are sooo cute!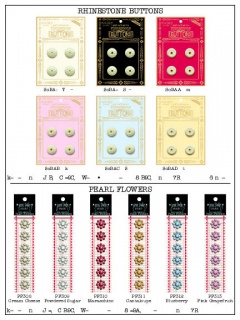 These buttons.. just reminds us of our mothers' time, right? Vintage cream buttons topped with a tiny little pink rhinestones, true Jenni Bowlin's style. :D


I need the vintage little girl's buttons... NOW!
Making Memories
I don't know whether you're supposed to love them or hate them... cause, they always tempt us with that little sneak peeks and then WOW us with the real products. I still love them though! :D <3
I'm thinking this is a new travel line

And this, like everybody else assumed, should be a wedding line:
(Love the colors, you can't go wrong with cream and brown, black and white... now I need some sneaks of the new die-cut papers MM is going to come up with... pretty please? D: )

Collage Press
Such a tiny little sneak, but speaks much for itself!
S.E.I
I love all the new releases last year, and this year is no exception!
Mimosa
February release
Bridgeport
February Release
En Route
April Release
Playday
June Release
HEIDI GRACE
Sweetest Bug
Forever Love